Singing actors – Vol. 1
The release of Scarlett Johannson's album of Tom Waits covers brings into focus again the question of thespians turning to the microphone, a career divergence usually as ill advised as the reverse direction. Here is the first of two mixes compiling vocal performances by actors, most of them straight efforts at assaulting the hitparades, a selected few performed in character, a couple of them novelty records. Some are pretty good, some so bad that one wonders what these people were thinking. The second part will follow next week.
William Shatner – Common People

Shatner had created a classic in the so-bad-it's-really-bad-cult genre with his staggering cover of Lucy In The Sky With Diamonds. One evident admirer of Capt'n Kirk's stylings was Ben Folds, who in 2004 produced an interesting, in parts quite good album of Shatner's ramblings. Shatner doesn't sing, but speak (and so I'm kicking off this compilation with a track which exposes its title as a misnomer). Over a whole album, that method of interpretation slowly loses its appeal; but on a song like this cover of the Pulp hit, it works gloriously (with the help of Joe Jackson coming over all emo). One does not know whether to laugh at this, or acknowledge that it's all quite great.
Ricky Gervais & Liam Gallagher – Freelove Freeway

In what may well be the best scene in the original The Office, David Brent hijacks a team-building session to perform some of the songs he wrote on his abortive path to superstardom (on which he gave a leg-up to Scottish rockers Texas). Freelove Freeway sums up Brent brilliantly: it's a cracking tune — Brent does have some talent, but invariably finds ways to undermine it. Here he does so by applying mangled clichés which he clearly didn't think through ("because none of them was you…"). In the series, Brent eventually leaves Wernham Hogg and tries to follow his musician's dream. As we learn in the Christmas special, he even releases a single. But even there, he typically misjudges things: the a-side is a really bad cover version of Harold Melvin & the Bluenotes' If You Don't Know Me By Now (Brent would probably think he is covering Simply Red), while the potential hit, Freelove Freeway, is stuck on the b-side. Oasis' Liam Gallagher recorded this song with Gervais (did you know that in Quebec's version of The Office, Brent's character is named…Gervais?); we'll have to live with that.
Jack Palance – The Meanest Guy That Ever Lived

Am I the only person who thought that the man born Volodymyr Palahniuk had died long before his actual death in 2006? This little gem is from his only album, 1969's country set Palance, recorded in Nashville. The Meanest Guy That Ever Lived was written by Palance. One can almost imagine Johnny Cash singing it. The advantage of that would have resided in Cash's ability to actually sing, but I doubt that Cash could have project the depth of Palance's menace.
Marlene Dietrich – Die Antwort weiss ganz allein der Wind

How likely is the notion of proto-diva Marlene Dietrich doing US folk music in German? This is a 1964 cover of Dylan's Blowing In The Wind. Dietrich sings it straight, and the arrangement is quite unlike the sort of treatment the Vegas-bound entertainers have given it, despite the use of strings (great flute though). Die Antwort… was coupled with a German version of Joan Baez's Tell Me Where The Flowers Are. Imagine, the great Marlene Dietrich as West Germany's proto-hippie!
Richard Harris – MacArthur Park

You can't argue that actors should never sing if you know Harris' MacArthur Park. Jim Steinman, who produced Meat Loaf in his pomp, made a career from ripping this song off. Written by the great Jimmy Webb, Harris had the first bite off this little masterpiece in 1968. It seems a strange choice, and at times Harris is warbling a bit; but then, towards the end, Dumbledore hits the falsetto, almost falls over and needs help from the backing singers, and the whole recording reveals itself as a piece of pure demented genius.
Brigitte Bardot – Je T'aime…Moi Non Plus

It was a huge hit for Jane Birkin, but Serge Gainsbourg actually wrote it for BB, who was the first to record it with him in 1968. Married at the time to German playboy Günter Sachs, the future cheerleader for animals and racists asked Gainsbourg not to release the song. So this recording remained locked away for nearly two decades. Birkin's orgasm is better, but BB makes Serge sound like he's doing it with a woman where on the Birkin version he sounds like a dirty old man.
Eddie Murphy – Boogie in Your Butt

The sequencing is purely accidental. Having decided to include Murphy in this mix, I was faced with the choice of posting a novelty comedy single, or one of Ed's stabs at soulmandom. Murphy's attempts at soul were bad, very bad indeed, and they fail to amuse. Perhaps that is so because much of '80s soul was so banal that Murphy's effort just don't seem absurd. (Of course, much of '80s soul was great, as I plan to show here in the future.) So we're left with Murphy's musings on how the butt can serve as a storage utility (while being quick to point out that the title does not refer to what you and I at first suspected). It's still not very amusing, but it is more entertaining to see a man failing at what he claims to be good at than at things he had no business attempting in first place. Still, if rumours are true, it seems that a Chelsea player who used to play for another London club took the advice of one line in the final verse. Incidentally, I borrowed this MP3 from the wonderful Mine For Life blog.
Billy Bob Thornton – Angelina

Even for a very sporadic consumer of celebrity news such as myself, it is clear who the song is about. Released in 2001, when Pitt and Rachel were still happily married, Thornton proves that he has no talent as an oracle as he triumphantly proclaims: "They all said we"d never make it." Stupid, silly them. It's a rather disturbing song in light of the sexual antics Billy Bob and Angelina reportedly engaged in. "You walked into a wall…you were masked in tiny cuts". I bet Brad is gentler.
Rainbo (Sissy Spacek) – John, You Went Too Far This Time

Before she became famous as an actress, including her singing role as Loretta Lynn, Spacek tried to become a singer, releasing a solitary single before being fired by her label. The John in the title would be Lennon, and his transgression would be letting it all hang out on the cover of Two Virgins. Sissy is spitting blood over this act of public nudity, and aesthetically I'm inclined to concur. John and Yoko were not attractive naked people. But if Lennon went too far on a record sleeve, then Spacek oversteps the boundaries of musical decency with that chorus (which supposedly was meant to evoke the Beatles sound). Breathtakingly bad.
Robert Mitchum – What Is This Generation Coming To

More sentiments of moral outrage are expressed in Mitchum's generation-gap calypso opus. Though one suspects that Bob is more likely to piss into the cup of indignation as he alligns his chosen genre with the rock 'n' roll, both of which the young people of today (that'd be the late '50s) are shaking their hips to as furiously as their elders are shaking their heads. Mitchum is a fine case for allowing actors to sing — as long as they remember to return to the set.
Peter Sellers & Sophia Loren – Goodness Gracious Me
One for the race relations board as Sellers does that Indian accent his racist pal Milligan possibly taught him, and applies it in a lewd way in conversation with the lovely Sophia Loren, appearing here uncharacteristically as a kitten of sex. Thing is, much as this song is objectionable, it is very catchy.
David Soul – Don't Give Up On Us

Hutch left Starsky in the Gran Torino as he laid on some loverman action on the hitparades in '77. David troubled the higher reaches of the charts four times within a year, starting with this song, and later with the fantastic Silver Lady (which I'm holding back for a future occasion). One final hurrah with a UK Top 20 hit in 1978, and our man's singing career was over. A year later, his hit TV show was also over. Soul entered a decline into obscurity and, sadly, alcoholism, until he moved to England in the '90s to become a star of the stage in the West End.
Joe Pesci – Take Your Love And Shove It

I am certain that the "Am I funny to you?" line was exhausted before Pesci's "comedy" album was even completed. In case it wasn't, the answer is no, Joe, you are not funny at all. You were fucking irritating in the Lethal Weapon movies, fucking annoying in that Cousin Vinny shit, fucking acted under the fucking table by fucking De Niro and fucking Woods and even Rocky's fat fucking brother-in-law when you fucking had your chance at making a fucking impression in Once Upon A Fuckin' Time In America, and I cheered like a fucking fuck when they fucking shot you in fucking GoodFellas, hoping they used fucking live ammunition while fucking filming the scene. Unfortunately your Vincent Laguardia Gambini comedy shtick was so fucking unfunny that we're fucking stuck with you in the fucking movies. Fuck off Joe fucking Pesci.
Leonard Nimoy – Highly Illogical

Serving as a counterpoint to another long-faced Leonard releasing records in 1968, Nimoy recorded an amusing LP titled Two Sides Of Leonard Nimoy. Half was Nimoy singing songs such as Gentle On My Mind and If I Were A Carpenter, the other was in Spock character (following up the previous year's Leonard Nimoy Presents Mr. Spock's Music From Outer Space), as on this partly spoken, partly badly-sung track. The kind of thing the term "novelty record" was invented for.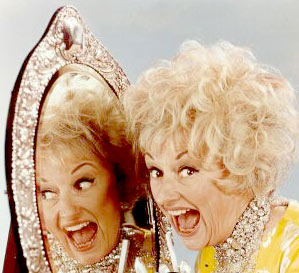 Phyllis Diller – Satisfaction
This a contender for worst recording of all time. It's also quite funny, possibly in an unintentional way (the "hey hey hey" had me laughing anyway). What turns out to be not funny is the sudden and brief barrage of punchlines for which Diller presumably fired her writers.
Gwyneth Paltrow & Huey Lewis – Cruisin'
Included to fulfill my contractual obligation to feature thespians who sing. Paltrow can hold a tune and even sounds vaguely pleasant, but she should not give up her day job. Now if only she could persuade her husband to stop singing…
Traci Lords – Fallen Angel
A rock-dance type of track from 1995, featuring Katharine Hepburn in character of her great 1940 film, The Philadelphia Story. On the cover, Ms Hepburn looks well-kept and striking a pose to publicise her new blonde image. Another Traci Lords, you say? I would not possibly know anything about that.
Crispin Hellion Glover – These Boots Are Made For Walking

Whatever happened to Marty McFly's father? Diller's Satisfaction may be a contender for worst song ever, but she won't get past Crispin Glover's non-comedic and description-defying cover of Nancy Sinatra's hit. It needs to be heard. Once.
David Hasselhoff – Hooked On A Feeling
The Hoff must be included, of course, and how better to follow Crispin Glover's artistic innovations with something entirely liberated from talent. The opening chant of "Hooga-shagga-hooga-hooga-hooga-shagga" sets up what might well have been the Hasselhoff's 17th consecutive number 1 in Germany for the shitfest it turns out to be. Talking of Hasselhoff, why are all sorts of crap people turned into cult figures on strength of being the subject of public ridicule? Chuck fucking Norris has been revived from well-earned obscurity, Hasselhoff has become so much of a cult figure that even I refer to him as The Hoff. Give it time, and the pair of war criminals in the White House will find public acclaim on the back of a YouTube video showing them falling over each other.
Marilyn Monroe – Happy Birthday Mr President
And talking of presidents, MM's scrotum-tickling tribute to JFK in 1962. Monroe, of course, was a pretty good singer, a talent which, like her acting, was often obscured by that breathy blonde shtick she was condemned to keep up. Listen to Kennedy's acknowledgment at the end. When he says, "I can now retire from politics having had…", he pauses for a bit, possibly reminding himself that he cannot exercise bragging rights at that particular moment.
TRACKLISTING
1. William Shatner – Common People
2. Ricky Gervais & Liam Gallagher – Freelove Freeway
3. Jack Palance – The Meanest Guy That Ever Lived
4. Marlene Dietrich – Die Antwort weiss ganz allein der Wind
5. Richard Harris – MacArthur Park
6. Brigitte Bardot – Je T'aime…Moi Non Plus
7. Eddie Murphy – Boogie in Your Butt
8. Billy Bob Thornton – Angelina
9. Rainbo (Sissy Spacek) – John You Went Too Far This Time
10. Robert Mitchum – What Is This Generation Coming To
11. Peter Sellers & Sophia Loren – Goodness Gracious Me
12. David Soul – Don't Give Up On Us
13. Joe Pesci – Take Your Love And Shove It
14. Leonard Nimoy – Highly Illogical
15. Phyllis Diller – Satisfaction
16. Gwyneth Paltrow & Huey Lewis – Cruisin'
17. Traci Lords – Fallen Angel
18. Crispin Hellion Glover – These Boots Are Made For Walking
19. David Hasselhoff – Hooked On A Feeling
20. Marilyn Monroe – Happy Birthday Mr President (for JFK)
Categories:
Mix CD-Rs
Billy Bob Thornton, Brigitte Bardot, Crispin Hellion Glover, David Hasselhoff, David Soul, Eddie Murphy, Gwyneth Paltrow, Huey Lewis, Jack Palance, Joe Pesci, Leonard Nimoy, Marilyn Monroe, Marlene Dietrich, Peter Sellers, Richard Harris, Ricky Gervais, Robert Mitchum, Sissy Spacek, William Shatner