Pissing off the Taste Police with Carpenters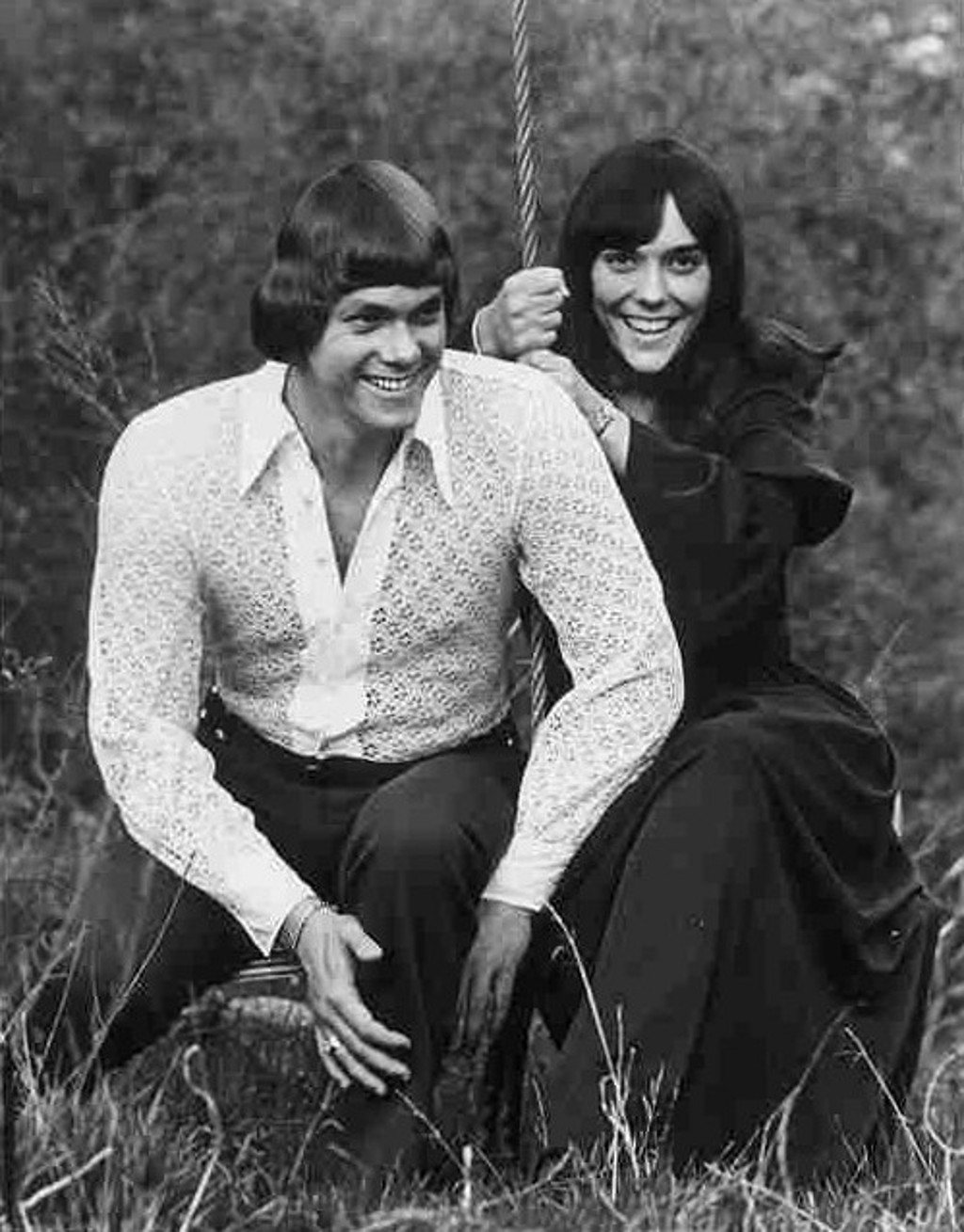 OK, I'm cheating a bit. There are factions of the Taste Police who adore Karen & Richard's music. Read this post as pissing off those branches of the Taste Police who would prosecute their Carpenters-loving colleagues.
It is a little odd that the same members of the Taste Police who will defend the Carpenters are quite prepared to heap scorn on far edgier acts — for lacking edge. Let's face it, you can't really screw to the Carpenters ("Song For You" and "This Masquerade" being exceptions), they were mostly a cover act, and fans of the Carpenters are likely to like James Blunt as well. And many Carpenters song were utter crap. But when the Carpenters were great, they were indeed great. Richard's arrangements could be exquisite. Perhaps the Taste Police forgives that. But Richard Carpenter, surely, is the least rock 'n roll man ever to have worn the pop mantle. All I'm left with is Karen Carpenter: one of the finest vocalists in pop ever, blessed with an astonishingly beautiful and versatile voice.
Carpenters – (They Long To Be) Close To You.mp3
This Bacharach-David composition was the Carpenters break-through hit, and the best-known version of the song, which has been recorded by artists as diverse as Dionne Warwick, Isaac Hayes (whose symphonic version is incredible), the Cranberries and the Barenaked Ladies (the late Gwen Guthrie recorded a lovely upbeat version of it in 1986). The Carpenters were discovered by Herb Alpert and signed to his A&M label; it was Alpert who suggested they record "Close To You", and it sounds like he is playing on it too.
Gwen Guthrie – (They Long To Be) Close To You.mp3
Carpenters – Superstar.mp3
Oh, Karen's plaintive, yearning voice on this can move you to tears. Another Taste Police target, Luther Vandross later took this song, stirred in some Stevie Wonder, and created a 9-minute epic which should be regarded as one of the great cover versions of any song. I'm not quite sure how a song written from the perspective of a groupie (begging the question of why it wasn't used in Almost Famous) came to become a big hit for the wholesome Carpenters. No doubt, they knew what the song was about; they even toned down the lyrics in one instance. A host of other artists recorded "Superstar" in the two years between its composition and the Carpenters' hit version, including Rita Coolidge and Bette Middler, whose TV performance of the song alerted Richard to it.
Luther Vandross – Superstar/Until You Come Back To Me.mp3
Carpenters – Rainy Days And Mondays.mp3
This might be my favourite Carpenters song. Its undramatically but touchingly describes the condition of depression, with the promise of finding refuge and comfort from melancholy from "the one who loves me". Karen invests much emotion into her delivery; presumably this was a song she could identify with more than the one written from a groupie's perspective. I'm with Karen on Mondays being a bit of a downer, but rainy days cheer me up. As does this sad but hopeful song.
Carpenters – Goodbye To Love.mp3
This song breaks my heart. What fatalistic lyrics (" And all I know of love is how to live without it") delivered with such a range of emotion. But it's not the sad lyrics and Karen's vocals that get me as much as that fuzzy guitar solo which captures the entire sentiment of the song. It's a guitar solo that reaches inside me and wrenches my guts. Never mind "Rainy Days", I think this is my favourite Carpenters song.
Carpenters – Hurting Each Other.mp3
A cover of a fairly obscure '60s track. As this song begins, Karen sounds bit like Dusty Springfield. At 0:38, the chorus kicks in and it's pure Carpenters. Richard's arrangement is wonderful, making it sound like a Bacharach song. The climax at 2:13 is possibly the finest Carpenters moment: Karen's phrasing of the lines, " Making each other cry, breaking each other's heart, tearing each other apart", with her emphasis on the words "each other" as the strings go all soul on us…phew!
Carpenters – A Song For You.mp3
"A Song For You" was the title track for their best album by far, released in 1972 (it also featured the previous two songs). Karen's vocals are incredibly intricate and emotionally beautifully judged, a real masterclass of singing (which Christina Aguilera might have taken note of on her attempt of a cover). I love the way Karen sings the word "better". It seems difficult to top this version, but Donny Hathaway's version, recorded a year earlier, is even better. Imagine Donny and Karen had lived to record it as a duet (hmmmm, Karen, dead; Gwen, dead; Luther, dead; Donny, dead…)!
Donny Hathaway – A Song For You.mp3
Carpenters – This Masquerade.mp3
If a song has a flute in it, I'm almost certain to love it. And "This Masquerade" has some of the best flute in pop. Like "A Song For You", it was written by Leon Russell. George Benson's version, from Breezin', is better known. Good as it is, the Carpenters' take pisses all over it. Another intricate vocal performance, a wonderful jazzy arrangement — and Richard rocks a lovely piano solo, just before the first flute solo. Amazingly, this was only the b-side to the appalling cover of the Marvelettes' "Please Mr Postman" (the one with the Disneyland promo). And here's a key as to why some members of the Taste Police still disregard the Carpenters' genius: many of the great moments are obscured by the rubbish that was released to score hits.
The Carpenters – There's A Kind Of Hush.mp3
And this is the sort of song I blame for that. The arrangement is cheesy and shoddy, the melody is pretty but lacking in substance, and the lyrics are so generic as to give Karen nothing to do with them. Of all the rubbish Carpenters songs, it's not even remotely the worst. To his credit, Richard is unhappy with his reworking of the Herman's Hermits hit, especially the use of the synth. (Previously uploaded on the Time Travel: 1976 post)